Pay Attention!

Even your brain doesn't have the capacity to process everything in the environment simultaneously!  The brain's solution to this problem is to select from the environment things to process, and to filter out other things, so as not to waste brain energy on them.  This filtering process is called attention.  Michael E. Goldberg, David Mahoney Professor of Brain and Behavior at Columbia University, and Ellen K. Levy, an artist and educator at the Institute for Doctoral Studies in the Visual Arts who has long visualized interconnections between art and scientific investigations, will describe the art and science of attention – how the brain organizes attention and how the artist uses it to shape what the viewer looks at and thinks about. Goldberg will explore the trajectory of his original experiments on the cerebral cortex demonstrating how the brain creates a priority map of the world by integrating topdown and bottom up signals.  Levy will expand on their collaboration, which led her to conduct a mischievous experiment, involving inattention blindness and 3-Card Monte in several galleries that functioned as atypical 'laboratories' for exploring the realm of human behavior.
On Sunday June 10, 2012, at 6PM it is, in Roald Hoffmann and Dave Soldier's Entertaining Science cabaret at the Cornelia Street Cafe (in the Village, at 29 Cornelia Street  between Bleecker and W. 4th; Christopher St. is probably the nearest subway stop). 212-989-9319. See their website at www.corneliastreetcafe.com. Admission $10 + 1 drink. Reservations can be made by calling the café, but only in the week before the show, i. e. from 10AM, Monday, June 4. 
Entertaining Science has since 2002 paired public lectures by prominent scientists with performances by artists who address the lecture's theme. One can expect anything: readings, music, theatre, magic, resolution of controversial issues. The general goal is to play with ideas, to talk to people about science, to entertain. And have fun.
The series runs at 6pm on the second Sunday of each month, and is coordinated by founder, chemist and poet Roald Hoffman of Cornell University with neuroscientist and composer Dave Soldier of Columbia University.
Past participants include scientists from a broad range of fields, including Oliver Sacks, Benoit Mandelbrot, Joseph Le Doux, Carl Djerassi, Paul Greengard, Roger Payne and Mark Moffet, paired with the likes of downtown musicians, actors, filmmakers, playwrights, choreographers and flamenco dancers, bluegrass bands, and,photographers including Vitaly Komar, Elliott Sharp, Phoebe Legere, Mark Mitton and NelidaTirado.
Download sample descriptions of Entertaining Science shows
NEXT ENTERTAINING SCIENCE: Loops, Waves, and Textures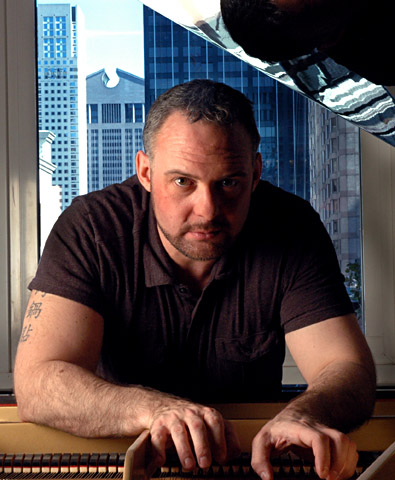 In the early 1970's, John Adams began to write music that combined his interest in American popular music, the classics, and electronics. Inspired by the waveform transformation that occurs in a modulating circuit, Adams set out to write music "as if the piano was a generator of waveforms," by using loops, phasing, and algorithmic devices. Pianist Jeff Lankov will perform Adams' first exploration into minimalism, the revolutionary Phrygian Gates; as well as his "manic, bipolar scherzo,"American Berserk.
Waves are at the heart of what Ken Perlin does. Ken, who directs the NYU Games for Learning Institute, is an Academy Award winning computer scientist at NYU's Media Research Laboratory who has created a goodly number of the techniques used in today's cinema. His interests include animation with personality, realistic textures, and educational computer games. For this event, he will be creating original graphically animated work inspired by Jeff's interpretation of John Adams' music.
Sunday, April 8th, 2012, 6pm. Call 212/989-9319 for reservations. 
PRESS & FURTHER INFO

All inquiries can be directed to Monsieur 
Dave Soldier
. Selected press:
-Bulletin of the American Academy of Science
- the Lancet (on Dave Sulzer & Rebecca Cherry's show)
-And, of course, Roald Hoffman's website
PREVIOUS SHOWS
The Two Garys–Guitar Zero & Exponential 2/12/2012
SILENT GENES AND GENTLE SONGS 1/8/2012 
HAPPY BIRTHDAY, O UNIVERSE 12/11/2011
THE DRONE AND THE UNIVERSE 11/13/2011
Angular Momentum of the Human Body 10/9/2011
Movement of the People (And Monkeys) 9/11/2011 
New Frontiers: Undruggable Proteins & Impossible Piano Music 7/10/2011
Singing in the Brain 6/12/2011
Brain Trauma & One Man's Music 5/8/2011
Sing to us, Planets 4/10/2011

AIDS with Heart, Humor & Hope 3/13/2011
Exposure: Radioactivity from Marie Curie to Today 2/13/2011 
Abstraction and Passion: The Brainwave Music Project 1/9/2011
Adventures Among Ants 5/2/2010
Can culture emerge from scratch? 3/7/2010

The Camera Never Lies 2/7/2010

EXTREMES 1/3/2010


YOU SEE WHAT YOUR BRAIN WANTS YOU TO SEE 12/6/2009


SHAPES AND ENERGIES: LOVE AND HATE AMONG THE ATOMS 11/1/2009


NATURAL LAW: DARWIN'S TANGLED BANK 10/4/2009


THE WORLDS WE MAKE UP 9/6/2009


ACQUA! THE SOUNDS AND SCIENCE OF WATER 6/7/2009


EL BAILE BACTERIANO! 5/3/2009


ANNIHILATION! 4/5/2009


NANOARCHITECTURES: WHY MORE OF LESS IS MORE! 3/1/2009


JEDUTHUN'S HEIRS: JEWISH GENES, JEWISH GROOVES 2/1/2009


FLEAS ON STEROIDS 1/4/2009


A FUNNY THING HAPPENED ON THE WAY TO THE LAB 12/7/2008


IMAGINE SCIENCE IN FILM 11/2/2008


The Haphazard Construction of the Human Mind 10/5/2008


TABOOS 9/7/2008


WAVE/PARTICLE 6/1/2008


WHY DO WHALES SING? 5/4/2008


It's the Way it Shatters that Matters 3/2/2008


Five Feet High and Rising 2/3/2008


SeaChange: Reversing the Tide 1/6/2008


THINKING, FEELING 12/2/2007


ALL IS PATTERN 11/4/2007


Harmonious Triads 10/7/2007
Science 8/30/2007


COLTRANE, EINSTEIN, AND COSMOLOGY 2 7/1/2007


Reflections of the Animal Mind 6/3/2007


HE SAYS, SHE SAYS, EITHER WAY IT'S ALL PHALLACY 5/6/2007


A RIFF ON THE WAY TO STRUCTURE 4/1/2007


ATYPICAL ANTIPSYCHOTICS 3/4/2007


MIRROR, MIRROR ON THE WALL 2/4/2007


COSI SIMILI, COSI DIVERSE 1/7/2007


I FORGOT TO LEARN TO FORGET 12/3/2006


NAMING NATURE 11/5/2006


Chateau Jiahu, Vintage 7000 BC 10/15/2006


Chateau Jiahu, Vintage 7000 BC 10/15/2006


CHOICES 9/3/2006


Finally With Women 8/6/2006


SMALL TALK AMONG THE BACTERIA 6/4/2006


BIOMINERALIZATION: THE BEAUTY OF FUNCTION 5/7/2006


AFTERNOON OF THE CHIMERAS 4/2/2006


IN YOUR EAR 3/5/2006


DARWIN'S BIRTHDAY BASH 2/5/2006


NEON! 12/4/2005


IMPROVISING ON CHAOS 11/13/2005


GM FOODS; MONSTERS OR MIRACLES? 10/2/2005


FERNS 9/4/2005


FROM SAMARKAND TO CORDOBA 8/7/2005


SCIENCE AND THE MORAL LIFE–A MISMATCH? 6/5/2005


WHY DO BIRDS SING? 5/1/2005


EIN STEIN FÜR EINSTEIN 4/3/2005


SHUFFLE OFF THIS MORTAL COIL 3/6/2005


ECO-OPERA-EVO 2/6/2005

§

6 Responses to Entertaining Science